Mu Legend's computer system requirements
MU Legend is the official follow-up to Mu Online - one of the first 3D MMORPGs in South Korea. Like its predecessor, MU Legend is developed by the Korean gaming company Webzen Games. The game is based on Unreal Engine 3 and shares familiar features with Mu Online as distinctive UI and controls. MU 2 has been renamed to MU Legend.
Many players reflect their play Mu Legend, there will be some problems from time to time, then, if not the game, then it may be their own computer system problems, the game on the computer system requirements are also a bit high, if your Computer system is not high enough, when you play the game when there will be different problems.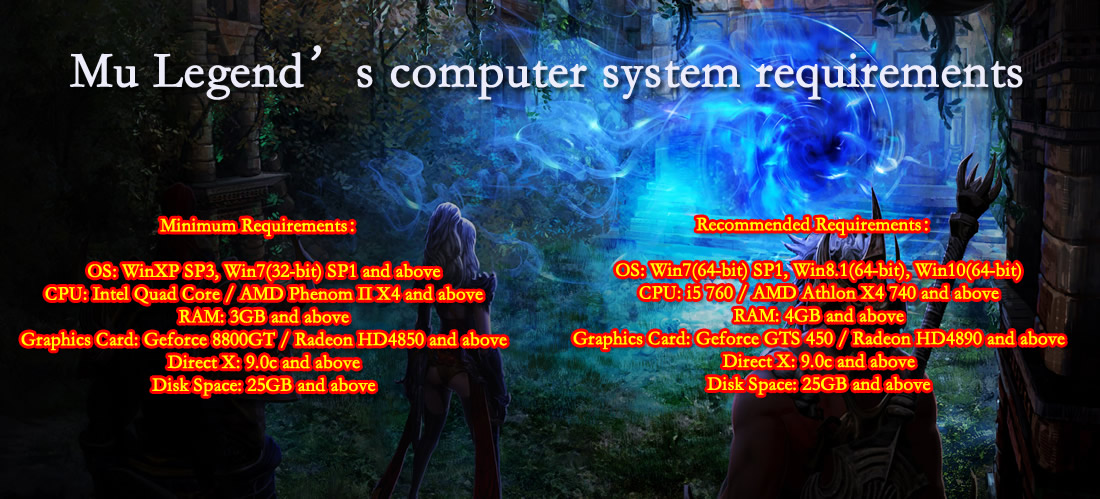 System Requirements:
Minimum Requirements
OS: WinXP SP3, Win7(32-bit) SP1 and above
CPU: Intel Quad Core / AMD Phenom II X4 and above
RAM: 3GB and above
Graphics Card: Geforce 8800GT / Radeon HD4850 and above
Direct X: 9.0c and above
Disk Space: 25GB and above
Recommended Requirements
OS: Win7(64-bit) SP1, Win8.1(64-bit), Win10(64-bit)
CPU: i5 760 / AMD Athlon X4 740 and above
RAM: 4GB and above
Graphics Card: Geforce GTS 450 / Radeon HD4890 and above
Direct X: 9.0c and above
Disk Space: 25GB and above
I hope your computer system can be suitable for playing this game, if your computer system is not reached, then you can upgrade your computer system, I hope you enjoy yourself.