okaymmo:[Sentinel] PoE 3.18 Witch Necromancer Skeleton Mages League Starter Build
PoE 3.18 Necromancer Skeleton Mages is a simple and cheap build, that will allow newbies to get deep into endgame. The build requires Dead Reckoning. It changes you summon skeletons skill gem to summon Skeleton Mages that cast fire, cold or lightning projectiles.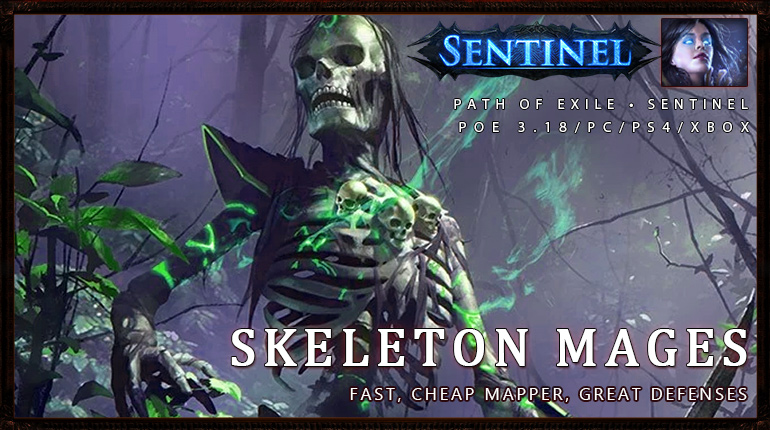 Skill Tree
Ascendancy: Commander of Darkness -> Mindless Aggression -> Unnatural Strength -> Mistress of Sacrifice
Pantheon: Lunaris and Shakari
Bandit: Kill all
Passive Tree & PoB
Path of Building Link:
League starter POB: https://pastebin.com/XSZNMbYY
Endgame POB: https://pastebin.com/mMpxiKzj
Endgame +2 tabula POB: https://pastebin.com/558ZP33M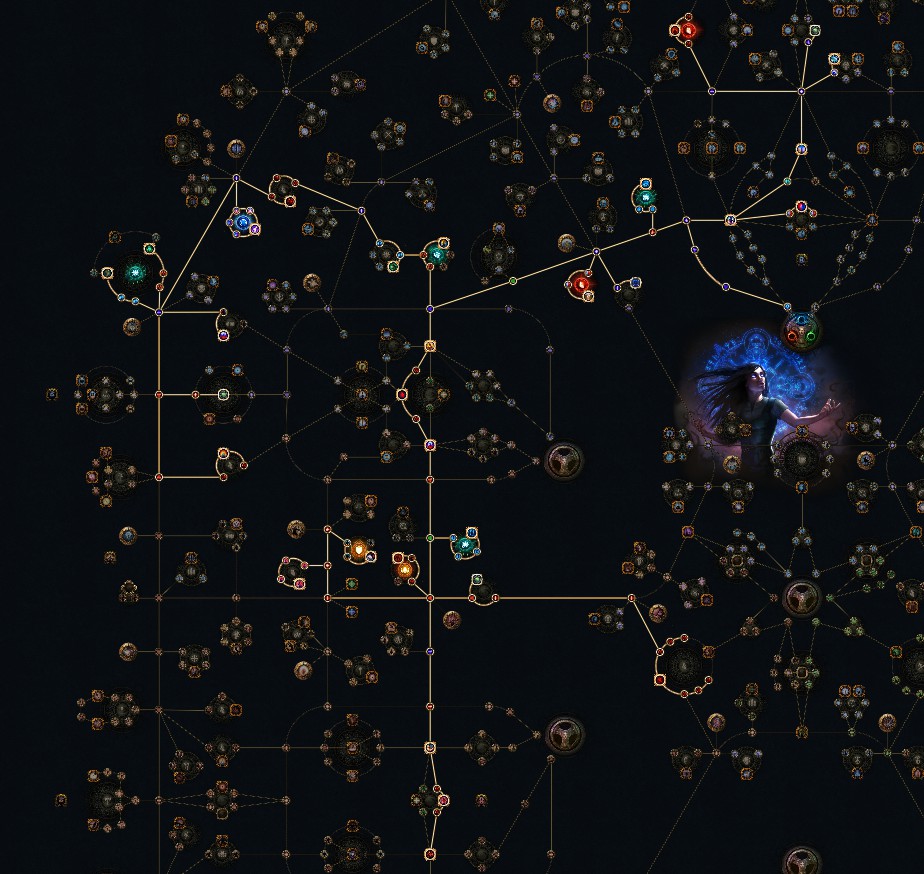 Gear & Gems Setup
Core Unique
Dead Reckoning
Minions have +9% to all Elemental Resistances
With at least 40 Intelligence in Radius, Summon Skeletons can Summon up to 15 Skeleton Mages
HELMET
Enchant: +40% skeleton damage
Maw of Mischief reduces cost of summoning skeles
Zealotry + Generosity gives extra damage and crit chance.
Skitterbots + Ailments for shock effect on enemies.
BODY
You must use Fleshcrafter
Vaal Summon Skeletons - Awakened Minion Damage - Spell Echo - Awakened Controlled Destruction - Awakened Greater Multiple Projectiles - Pierce
For bossing, you can swap pierce to hypothermia for more damage: Pierce, Hypothermia, Awakened Elemental Focus
And if you have a white socket, you can swap to elemental focus instead.
Note that spell echo gives lets you summon 8 skeles at once, but the mages don't get the double cast. However, they do get more cast speed.
*You can skip Awakened SE if it's too expensive.
GLOVES
Vixen's Entrapment will trigger socketed curse when you self-cast another curse.
Enchance 4 gives 24% quality to linked gems:
Assassin's Mark 20% quality gives 5% chance to get power charge. 44% quality gives 11% chance.
Level 1 Flame Dash for mana efficiency. 20% qualty is 10% cooldown. 44% is 24%.
Faster Casting is extra QoL for Flame Dash!
BOOTS
+12% to Fire and Lightning Resistances
+2 to Level of Socketed Minion Gems
+25 to Strength
+19 to Intelligence
+59 to maximum Life
30% increased Movement Speed
+20% to Fire and Lightning Resistances
+2 minion boots from delve
Feeding Frenzy to buff skeletons.
Raise Spectre, Feeding Frenzy, Minion Life, Empower
The chieftain spectres have a small mana pool and low mana regen, so lifetap lets them quickly recast their power and frenzy charges.
They have low HP, so link to Minion Life to keep them alive.
WEAPON
7% increased Cast Speed
+1 to Level of all Spell Skill Gems
+1 to Level of all Minion Skill Gems
Minions deal 20% increased Damage
Minions have 18% increased Attack Speed
Minions have 19% increased Cast Speed
Trigger a Socketed Spell when you Use a Skill, with a 8 second Cooldown
Spells Triggered this way have 150% more Cost
Try to get +1 minion gems and +1 spell gems (+2 total)
Desecrate - Flesh Offering - Arcane Surge
Alternative: +1 gem and minion damage or just minion damage (cheap)
*Trigger craft recommended.
Triggered spells cost extra mana, so use arcane surge to increase mana regen.
SHIELD or WEAPON 2
You can use two weapons (more DPS) or a shield (tankiness)
+40 to maximum Life
+38 to Armour
+100 to maximum Life
+48 Life gained when you Block
Recover 5% of Life when you Block
5% Chance to Block Spell Damage
LINKED: Immortal Call - CWDT
The curse should be UNLINKED (for self-cast): Punishment
Gem links are same for shield or two weapons.
Set CWDT and IC to about 30% HP.
BELT
Has 1 Abyssal Socket
+5 to maximum Energy Shield
+114 to maximum Life
+40% to Fire Resistance
+42% to Cold Resistance
+39% to Lightning Resistance
Regenerate 30 Life per second
+54 to maximum Mana
AMULET
+16 to all Attributes
------------------------------------------
+12 to Intelligence
41% increased Mana Regeneration Rate
+1 to maximum number of Skeletons
+1 to Level of all Intelligence Skill Gems
+20 to Dexterity
+1 int (Hunter) or +1 int/+1 skele (Hunter + Elder)
Anoint with Death Attunement
When you anoint Death Attunment on your amulet, you can refund the passive points and use them in another place.
RINGS
8% increased maximum Life
+125 to Evasion Rating
+93 to maximum Life
39% increased Mana Regeneration Rate
Minions have 28% increased Movement Speed
+15% to Fire and Chaos Resistances
Recommend: minion speed to help with clear speed.
FLASKS
Life: Instant Recovery when on Low Life + Bleed removal
Prefix: Startled, Frightened, Alarmed, Terrified, Panicked
of Sealing, of Alleviation, of Allaying, of Assuaging
Panicked Divine Flask of Staunching - instant life flask & remove bleed
Jade of Dousing - extra evasion & remove burning
Quicksilver of Adrenaline - increased movement speed
Quartz Flask of Heat - phasing & remove freeze
CLUSTER JEWELS
2x Large (8 or 9 points): Call to the Slaughter, Renewal (optional: Feasting Fiends)
1x Medium (4 or 5 points): Blessed Rebirth (optional: Renewal)
1x Small: Fortress Covenant
1x Small: Quickening Covenant
1x Small (2 points): Surging Vitality
1x Small (2 points): Enduring Composure
Anyone are welcomed to redistribute, copy, quote, reference or perform content in this site, if and only if he/she attributed the work