okaymmo:Blade and Soul Clan Ranks
We covered the general operation of a clan in the Clan Overview, now let's look at how clans progress.
While you will reap plenty of reputation rewards through battling enemy Faction members, those rewards are best for your clan.
Clan Ranks
Clans are created at Rank 1 with basic benefits, like a Clan Vault and Noticeboard. You'll want to increase your Clan Rank as it provides ever-greater benefits. To increase your rank you have to meet certain requirements (detailed below). Some of the requirements include collecting substantial numbers of items, some of which (Soulstones and Faction Insignias) can only be obtained through faction-based daily quests.
In our World PvP article we talked about how you can earn Prestige Points—a temporary PvP currency gained by doing battle with the opposing faction. After collecting enough Prestige Points, you can gain reputation within your faction, and you can also use these Prestige Points to purchase Faction Insignias from your faction's Coin Exchange Merchant.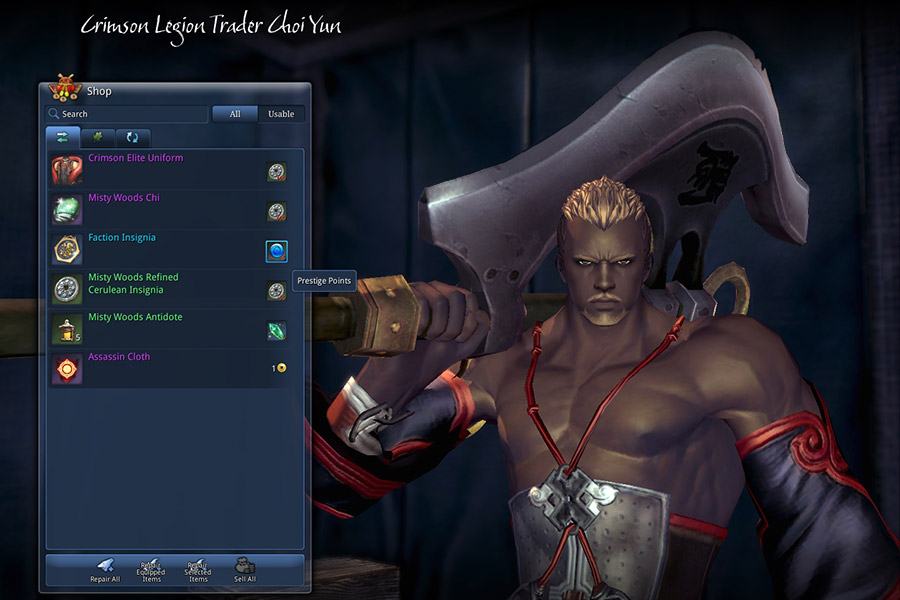 Most items required to increase your clan's Rank are obtained through gameplay that involves the clan to work together, or to honor their faction. Soulstones and Faction Insignias can, for instance, be obtained from certain enemy faction mobs, or by completing faction daily quests.
Rank Requirements & Benefits
Clan Rank
Level Up Requirement
Clan Benefits
Clan Rank 1

50 max clan members
Clan Vault
Clan Noticeboard

Clan Rank 2

2 or more clan members
1 Gold
10 Faction Insignias

Clan Rank 3

5 or more clan members
3 Gold
10 Faction Insignias

Clan Rank 4

5 or more clan members
5 Gold
30 Faction Insignias

Clan Rank 5

10 or more clan members
50 Gold
15 Naryu Silver
560 Faction Insignias
310 Soulstones

Production bonus on certain clan crafting items

Clan Rank 6

10 or more clan members
55 Gold
16 Naryu Silver
610 Faction Insignias
350 Soulstones

Equipment upgrade cost reduced by 5% (Excludes Breakthrough/Evolve, and some items.)

Clan Rank 7

10 or more clan members
65 Gold
19 Naryu Silver
730 Faction Insignias
410 Soulstones

Additional crafting slot in Large Workshop

Clan Rank 8

10 or more clan members
75 Gold
22 Naryu Silver
840 Faction Insignias
480 Soulstones

Windstride to clan member in party.

Clan Rank 9

10 or more clan members
85 Gold
25 Naryu Silver
950 Faction Insignias
530 Soulstones

Equipment upgrade cost reduced by an additional 10% (Excludes Breakthrough/Evolve, and some items.)

Clan Rank 10

20 or more clan members
95 Gold
28 Naryu Silver
1050 Faction Insignias
600 Soulstones

Clan Rank 11

20 or more clan members
110 Gold
33 Naryu Silver
1250 Faction Insignias
700 Soulstones

Clan leaders can designate a meeting place that members can teleport to (Costs 20 Soulstones and lasts for 2 hours)

Clan Rank 12

20 or more clan members
125 Gold
37 Naryu Silver
1400Faction Insignias
790 Soulstones

Fee to mail account-bound items reduced by 10%. Sender and recipient must be guild members on the same account.

Clan Rank 13

20 or more clan members
140 Gold
42 Naryu Silver
1560 Faction Insignias
880 Soulstones

Clan Rank 14

20 or more clan members
155 Gold
46 Naryu Silver
1730 Faction Insignias
970 Soulstones

Equipment upgrade cost reduced by an additional 10%
Equipment Breakthrough and Evolve cost reduced by 5%
Anyone are welcomed to redistribute, copy, quote, reference or perform content in this site, if and only if he/she attributed the work